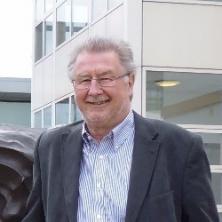 Professor Keith Thoday
---
Work address
Ellicot House, 17 Park Road
Eskbank
By Dalkeith
Midlothian
EH22 3DH
---
Biography
Professor Emeritus Keith L Thoday BVetMed, PhD, DVD, DipECVD, MRCVS

Keith Thoday is a Professor Emeritus of The University of Edinburgh, The Royal (Dick) School of Veterinary Studies.

He graduated from the Royal Veterinary College, the University of London in 1971 and then spent 2 years there undergoing postgraduate clinical training. Subsequently, he worked for 4 years in small animal practice in North London where he established and developed the first private veterinary dermatology referral service in Europe. He then accepted a Lectureship in Veterinary Medicine at Edinburgh, where he setup and headed the school's dermatology referral service. There, he carried out his PhD research into thyroid function in the domestic cat and was sequentially promoted to Senior Lecturer, Reader in Veterinary Dermatology and Endocrinology and then, Professor of Veterinary Dermatology.

He has received more than three quarters of a million pounds in research grants. He has published extensively and was the lead editor of Advances in Veterinary Dermatology Volume 4 (Proceeding of the Fourth World Congress of Veterinary Dermatology). He has trained 13 residents from 10 countries; 11 are now European College of Veterinary Dermatology (ECVD) Diplomates, three are Royal College of Veterinary Surgeons' (RCVS) Diplomates, one is a Diplomate of the American College of Veterinary Dermatology and two have also gained PhDs.

He is a founding member and past Secretary of the British Veterinary Dermatology Study Group (BVDSG, 1976), holds the Diploma in Veterinary Dermatology of the RCVS (1987) and was the first Chair of its Dermatology Board. He is a founding member and a Foundation Diplomate of the European College of Veterinary Dermatology (1992), served on all positions of the Board of the College, was its President in 2004 and 2005 and its representative on the European Board of Veterinary Specialisation for 10 years.

Amongst other marks of recognition, he was awarded the Woodrow Award of the British Small Animal Veterinary Association 'for outstanding contributions in the field of small animal veterinary medicine' (1989), Honorary Life Membership of the BVDSG (1990) and a Lifetime Achievement Award and Honorary Life Membership of the ECVD (2012).