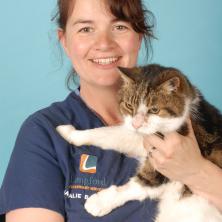 Mrs. Natalie Barnard
---
Work address
Highcroft referrals
615 Wells Road
Whitchurch
Bristol
Bs14 9be
---
Biography
Natalie graduated from the Royal Veterinary College, London in 2001. She then worked in small animal practice for 2 years before returning to the RVC in 2003 to undertake a 3 year residency in Veterinary Dermatology. Natalie attained her RCVS Certificate in Veterinary Dermatology in 2006 and was awarded her European Diploma in Veterinary Dermatology in 2009. After completing the residency Natalie provided a dermatology service at 2 private referral centres before joining the dermatology department at Langford Veterinary Services in 2010. Her areas of interest include allergic skin and ear disease.
---
Contact Mrs. Natalie Barnard
Only logged-in members and candidates can use contact form!