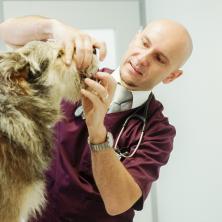 Dr. Marcel Kovalik
---
Work address
Anima Veterinary Referrals
Lichardova 34
Zilina
1001
Veterinary Dermatology Referrals
LVG Small Animal Hospital
Haddington and Ardene House Veterinary Hospital
Aberdeen, United Kingdom
---
Biography
Marcel qualified as a veterinary surgeon from The University of Veterinary Medicine and Pharmacy in Kosice (Slovak Republic) in 2004. Following his graduation he obtained a PhD in the field of allergology, pharmacology and immunology. After his PhD (2007), he joined a small animal practice in the UK. In 2008, he began a three year Residency programme in Veterinary Dermatology approved by the European College of Veterinary Dermatology at The University of Edinburgh which he completed in August 2011.

During his three year Residency he was involved in a number of clinical research and review studies which, so far have resulted in 20 papers published during his residency in peer-reviewed veterinary journals. In addition, he published original abstracts, the result of Free Communications presented during ESVD – ECVD and WAVD international meetings. Dr. Kovalik is a coauthor of the first edition Veterinary Computed Tomography, (Wiley-Blackwell, 2011). He is also a medical and scientific illustrator (see the publication list at www.researchgate.net/profile/Marcel_Kovalik/publications/).

During his residency, in 2010, he was presented with the Young Investigator's prize for the best research abstract presented at the European Society of Veterinary Dermatology – European College of Veterinary Dermatology's Annual Congress Prize. Additionally, in 2011, he was awarded the Ulrike Runge Harms Award of the European Society of Veterinary Dermatology for the best paper, project report, free communication or poster published/presented during the course of any ECVD Residency programme, for his paper on ciclosporin's effects on glucose homeostasis in dogs with atopic dermatitis.

He was board-certified by European College of Veterinary Dermatology in 2012. He is a board member of the European College of Veterinary Dermatology, member of the European Society of Veterinary Dermatology and the Royal College of Veterinary Surgeons. In 2012 he moved to Slovakia and created one of the first, purpose-built specialist veterinary hospitals in Slovakia. Since 2012 Dr. Kovalik has been consulting on regular basis one week monthly in UK and lecturing on the subject at international and national or local meetings. He is president of Slovakian Dermatology Study Group.
---
Contact Dr. Marcel Kovalik
Only logged-in members and candidates can use contact form!