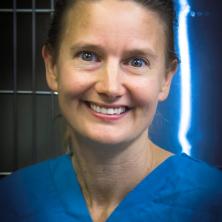 Dr. Ariane Neuber
---
Work address
Tierdermatologie Wildermuth
Borsigstr 7a
65205 Wiesbaden-Nordenstadt
---
Biography
Ariane graduated from the University of Munich, Germany, and after a few years in small animal practice both in Germany and the UK, she returned to the vet school to complete her doctorate. Following an Internship at the Animal Health Trust in Newmarket, she moved to Scotland to take up the Senior Clinical Scholarship in Veterinary Dermatology at the Royal (Dick) School of Veterinary Studies in Edinburgh. She passed her RCVS certificate in 2002, her European Diploma in 2005 and obtained RCVS Specialist Status. She currently provides a referral service for skin cases in Buckinghamshire and Berkshire. Ariane has a particular interest in medical management of ear disease and allergies but her service covers all aspects of veterinary dermatology.
---
Contact Dr. Ariane Neuber
Only logged-in members and candidates can use contact form!